Why the Transportation Industry Is a Great for Military Veterans

The CDL School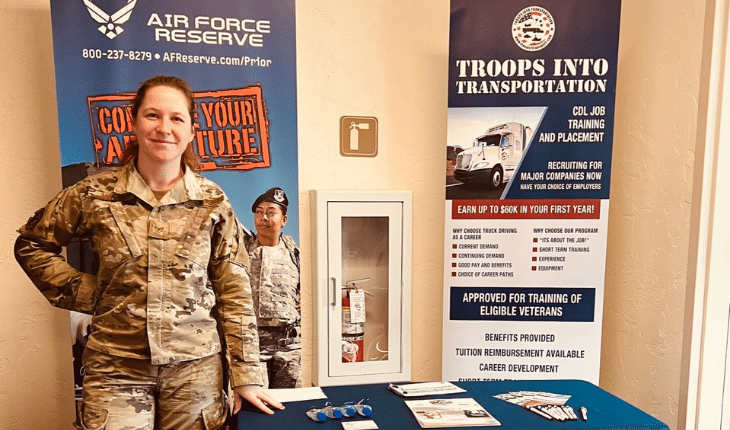 It seems that every week in the headlines we read about the massive supply shortage, from lumber to computer chips the list keeps growing. But just as important, we have a national shortage of professional drivers, the people delivering us the goods we need to support a functioning society.
We cannot simply replace truck drivers with just anybody. It takes a special type of person to be a truck driver, someone with the right skill set to be out on the road for hours, days, and even weeks at a time and professional drivers to have the discipline to follow all the rules and regulations that come with it. Veterans have these skills and discipline already instilled in them, making them the perfect candidates to join the transportation industry.
This should be no surprise; about 10% of veterans work in the transportation and material moving industry. The military equips its members with the right set of skills needed in the trucking industry, and as such, they are in high demand.
So the industry needs veterans that much is clear. But what's in it for you, a veteran?
Let's go over a few good reasons why truck driving is a great career option for veterans.
The Skills Overlap
We talked about the military equipping veterans with the necessary set of skills to become successful in the industry, but what did we mean by it?
Depending on what you did in the military, you might have experience with heavy equipment already. Even if you did not work with heavy equipment, you also possess soft skills that truck drivers need on the road and a level of discipline above most other people. These skills are crucial when hauling freight, whether in your state or driving cross-country. Additionally, if you already have a commercial driving license, some companies may consider the time you served as work experience and start you at a higher salary.
Paid Training
There are several GI Bill®-approved CDL schools where you can get pertinent certifications to get a CDL.
TransForce Group is one such school. Check them out here!
Financial Stability
A salary that can provide for one's family is the most important factor we look for in a job. Truck driving can be a very profitable career choice for veterans. As we mentioned earlier, veterans often get the time they served in the military as work experience. That means veterans can have higher starting salaries than other drivers.
Of course, the salary isn't the only factor we look for in employment; a good benefits package is equally important. Most trucking companies offer competitive benefits packages that are highly sought-after. Click here to learn more about the highest paying truck driving careers!
A Sense of Purpose
Many people join the military looking for a sense of purpose and then struggle to find it once they return to civilian life. Our country relies on truck drivers to deliver the essential goods necessary to continue society's advancement. Truck drivers are the lifeblood of the economy. By getting products from warehouses, to store shelves, they ensure the continuing functionality of our society.
In the months to come, professional drivers will take the front seat in combating the current supply chain issues.
Nobody can understand the sense of duty and responsibility that truck driving entails quite like a veteran.
We thank you for your service to our nation and invite you to join our industry by signing up for one of our CDL courses.