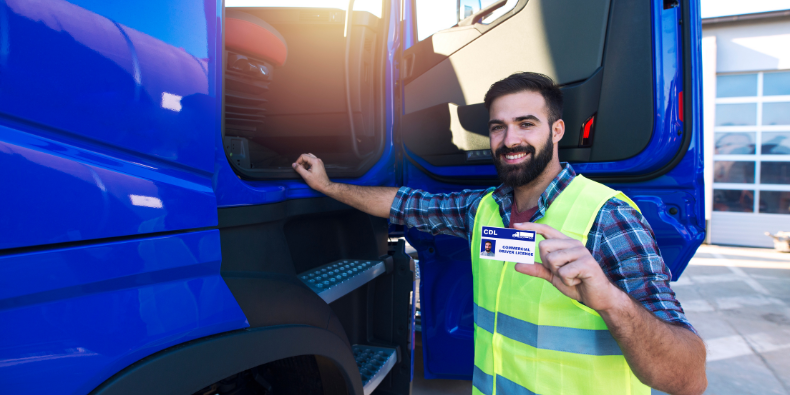 If you're curious about how to become a truck driver, we have the answers you need. The process may be less challenging than you think. Follow the steps below to be sure you qualify for a position as a truck driver for a professional company.
The Path to Obtaining Your CDL is More Simple Than You Think.
Most students of The CDL School are able to earn their commercial driving license in as few as 30 days. For others, it can take up to 8 weeks. This guide explains the key steps to becoming a professional truck driver to help you stay on course.
Become a CDL Driver in 5 Steps.
When it comes to swift completion of your commercial license training and issuance, preparation and knowing what to expect are key. There are really only 5 key steps to obtaining your license - but you'll need to coordinate between school schedules and your local DMV to complete as quickly as possible.
1. Perform Entry Level Driver Training (ELDT) with an Approved Provider
Entry Level Driver Training (ELDT) is the pre-requisite to obtaining a CDL for any person(s) who did not obtain a Commercial Learner's Permit (CLP) prior to February 2022.

ELDT is a federal standard established by the Federal Motor Carriers Safety Association (FMCSA) that aims to ensure all professional drivers have a standard for driver education to ensure safety on American highways.

EDLT training includes both coursework and a skills test assessment that a future driver must pass.

The CDL School offers FMCSA approved self-guided and instructor-led ELDT training that can help you obtain a permit in any state in the U.S.A.
2. Determine the Type of License Class You Need
Prior to obtaining your permit, you'll need to determine which type of license you want/need to obtain. If you already have employment lined up, it's important to verify the license class required with your employer.
Class A

Needed for "Big Trucks" (i.e. Tractor Trailers)
Local, Regional and Over the Road Hauls
Can be used to drive a Class A or B vehicle
Highly in demand by motor carriers, private fleets (i.e., Pepsi), other trucking companies.
Class B

Smaller Trucks and Buses
Typically local (Home each night)
Can not be used to drive a Class A vehicle
Highly in demand by construction companies, municipalities, waste management orgs and school systems.
Class BP(S)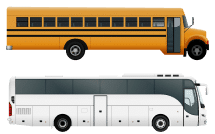 Similar to Class B but in this case includes Passenger (P) or Schoolbus (S) endorsements
Often used for metropolitan transits, transportation companies and/or school systems


3. Obtain Your Commercial Learner's Permit (CLP)
Once you've completed your theory course, it's time to get your Commercial Learner's Permit. You will need to pass the state required knowledge test(s). The state will also check your driving record for the last 10 years to ensure your eligibility.

Depending on the state you live in, you will also need to meet other requirements that include medical qualification, a DOT physical, proof of residency - etc.

You can learn your states requirements by getting a copy of your state's Commercial Driver's Licensing (CDL) Manual. If you are based in Florida, New York, Colorado or are a part of the U.S. Military -- our team is available to assist you with this step when you enroll in ELDT or Behind The Wheel (BTW) training with us.
4. Start Behind The Wheel (BTW) Training
With your permit in hand, it is time to take Behind the Wheel (BTW) Training.

Most schools will offer you differently hour based training packages to choose from ranging from 90 hours to 160 or more. The amount of time you need in Behind The Wheel training depends on how much experience you already have driving a commercial vehicle and/or whether or not you will be applying for job assistance.

The CDL School offers different packages for obtaining a Class A or Class B license, depending on your state. Our advisors will help you determine a the right training for you.
5. Pass your State Skills Exam
With your BTW training complete, it's time to take the road test at your local DMV! We recommend scheduling this appointment during your BTW training to ensure you get road-tested while your knowledge is still fresh.

While 97% of The CDL School's graduates pass their state exam on their first try, you are able to take the road exam multiple times. Don't get discouraged for one minor hiccup! You are at the end of an important journey to start a new, improved chapter in your career.
Are you ready to become a professional truck driver?
For over 60 years The CDL School has been helping people like you get CDL certified and launch rewarding careers in logistics.