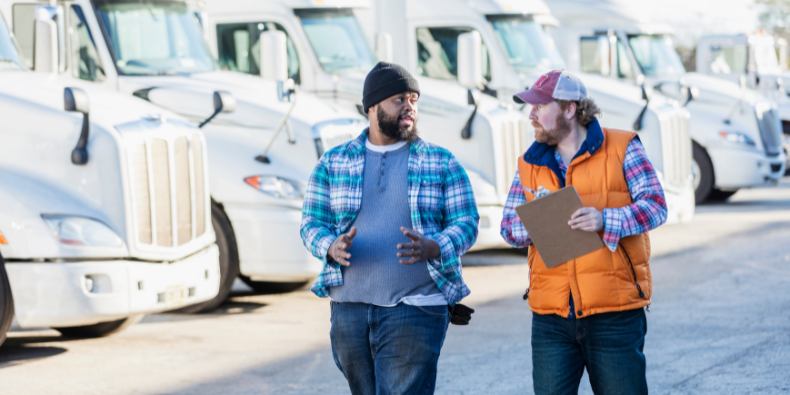 Whether your goal is to hit the open road from now until retirement or to work your way into a different career in logistics -- Truck driving is an excellent place to start.
Create Your Own Career Path
When it comes to being a professional truck driver, the opportunities are abundant.
Career Company Truck Driver
Many individuals who become professional drivers stay in the field until retirement, working for a carrier, private fleet or other trucking company.
Why? A career in trucking is lucrative -- and only gets better over time! While many people will run Over The Road (OTR) at the beginning of their careers, a majority will settle into local (home daily) jobs as they advance.
Owner Operator
To become an owner operator is essentially to run your own business and be an entrepreneur.

As an owner operator, you will own your own truck and decide when to make runs based on direct partnerships with carriers and/or brokers. For many, entrepreneurship is a taste of freedom.
Dispatching, Driver Training and Other Logistics Roles
Many drivers move into dispatching and other logistics roles, including become driver trainers. These jobs they are highly suitable for drivers based on their knowledge of what it means to actually be a driver.
Some benefits of moving into a business associate role? It's less physically demanding and may be more suitable later in your career.
Securing Employment with The CDL School
Every graduate of our school has access to career services and recommended jobs. Our goal is to ensure your success!

For many students - we offer a guaranteed job placement program, ensuring gauranteed employment through one of partner carriers.

If you are eligible for our guaranteed job placement program, you're likely to have secured employment before you start your first day of BTW training.

Our team will help you make a final decision -- but you are a free agent, and will be able to decide for yourself which company you want to go work for!

We carefully select all of our partners to ensure that you have a successful start to your career. Here are some of the employers we partner with:
Carmax
Covenant
Knight
Melton Truck Lines
TMC
TransForce
Schneider
Swift
Werner
Are you ready to become a professional truck driver?
For over 60 years The CDL School has been helping people like you get CDL certified and launch rewarding careers in logistics.